Except for a few companies like Xiaomi that crave and leverage media attention, Asia is generally quite media shy. It's a symptom of multiple factors including fear of being copied, fear of government, fear of competitors, and maybe even fear of self. These put the entire region into hiding. Many of the most promising up-and-coming startups are quieter than before, while they hack away at their revenues and build their teams.
This is especially true in Vietnam in 2015. Last year, although Vietnam's startup scene leapt to a heightened euphoria with the viral success of Flappy Bird, it came crashing down with the foibles of VC Corp and the persecution of HaiVL. The year ended on a somber note. But this hasn't stopped Vietnamese entrepreneurs from working on their startups and building. They're just much more camera shy now.
Seedcom is a newly founded venture fund in Vietnam. It's one of the silent outfits building startups at the heart of Vietnam's startup scene. If you're a foreigner, it's likely you've never heard of them, because the founders are homegrown Vietnamese successes. The most important founder is Dinh Anh Huan, a cofounder of The Gioi Di Dong (Mobile World). The Gioi Di Dong is Vietnam's Best Buy, which IPO'ed last year at over US$250 million, making millionaires out of all five cofounders. After the IPO, Dinh's focus has increasingly leaned towards Seedcom.
MobileWorld: The roots of Seedcom
What's specifically impressive about Seedcom is not its goal of becoming a US$300 million company by 2020. It's the retail, supply chain, and ecommerce oriented investment portfolio. But first, in order to grok that, you've got to understand Mobile World.
Mobile World was by far the most important Vietnamese IPO of 2014. The success of the company, which started out with both an ecommerce site and a physical mobile phone store, has been scrutinized by every business newspaper and magazine in Vietnam. Mobile World did things for the mobile customer that no other retailer was willing to do, including finding prime locations but building extra space for motorbike parking, or allowing customers to return their phones to storefronts within 30 days of purchase. As Nguyen Duc Tai told Tech In Asia:
No one else in the market is willing to put the customer first to the extent that we do.
Not only has MobileWorld been a retail success, but in terms of logistics, MobileWorld has led the charge, promising as fast as 30-minute delivery of a mobile phone you order online. And although its ecommerce portal only makes up six percent of its total revenue, that's still six percent of US$350 million. And it is targeting to have that number hit 15 percent by year's end.
Now, given this brief insight into the genetic makeup of MobileWorld, you may begin to understand where Seedcom is headed.
Seedcom's portfolio
Take a quick peek at Seedcom's portfolio. The site lists 12 companies. All of them have some connection to retail.
Concung.com – A baby and mom goods store planning to open up 400 chain stores by 2017.
Juno.vn – A shoes, handbags, and women's accessories chain with retail stores and an online store. Juno also produces its own shoes.
TheCoffeeHouse.vn – A coffeeshop chain that also makes its own coffee.
BaCayChoi.com – Following in the vein with Concung.com and Juno.vn, BaCayChoi is a company dedicated to kids and families, providing activities and workshops.
Fivetech – This is a company that works with multiple fashion brands to manufacture clothing.
Tiki.vn –

Tech In Asia

has written about

Tiki

before. You could say it's the Amazon of Vietnam because it started out in books, has continued into other categories, while also opening an ebooks category recently with

Miki.
GiaoHangNhanh.vn – This is one of Vietnam's most resilient and promising ecommerce logistics startups. For some, it might resemble aCommerce, but from

Tech In Asia's perspective, it's more likely to get deeper into the retail supply chain given the company it keeps within the Seedcom portfolio.
Haravan.com – You could say this is a Shopify and WordPress clone, but when you dig deeper into how the company operates, it also provides the backend for both retail and ecommerce companies. It allows companies to regulate their SKUs and keep track of deliveries. All of the companies in the portfolio that require retail management and website development use Haravan.
Eway.vn – Eway is basically a technology company that builds affiliate marketing and digital services solutions on mobile. It's possible this company provides the avenue for the other companies to go mobile.
Cent – It's not clear what this company does yet but the Seedcom website says it builds ecommerce solutions and mobile games.
Spiral – It's also not clear what Spiral does, but Seedcom's website says it builds modern retailing solutions.
Firefly – The website says it's a call center service platform, but it really is a Vietnamese version of Zendesk, this will come in especially handy for all of the above B2C businesses.
As you can see, each of the companies represents some aspect of the retail and ecommerce supply chain. Seedcom is essentially a full stack venture builder, accelerator, and fund. The companies can leverage the expertise of the retail gods from MobileWorld while at the same time work together in non-competing yet related enterprises. It's a situation where you have one set of companies that provide B2B solutions for the B2C companies, which in turn are freed up to focus on the customer. This makes Seedcom particularly compelling. It feeds on itself.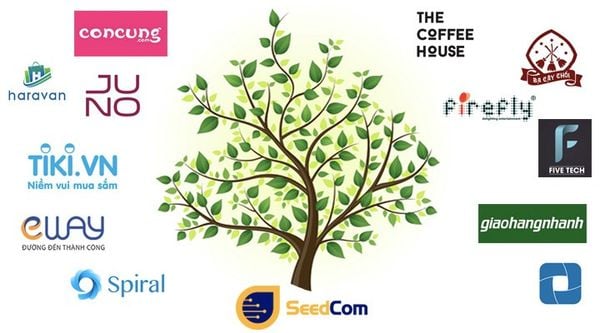 Why Seedcom is special but also a hint of things to come from Vietnam
What is unique about Vietnam is the generation of entrepreneurs from more than a decade ago. Seedcom's experienced leadership can pull in the talented 20-somethings and 30-somethings into new ventures. With this combination of expert and talent inside an interwoven portfolio, their efforts can be calculated and resilient.
Vietnam needs more of this. These are serious entrepreneurs leveraging all of their strengths to build solid companies. It remains to be seen how successful this portfolio will be, but what Tech In Asia has already heard in the grapevine is that several of these companies are already at multi-million dollar valuations.
Source: Techinasia.com